Home  ⇒  Overview Courses   ⇒ Sensor technology  ⇒ Work order
Work order: PLC - material and black / white detection
The following transfer system checks workpieces for their material and height. In order to design the structure and programming in a modular way, the transfer line is divided into individual stations.
Station 1:
Detecting workpiece carrier

Detecting ´WC´-jam

Checking material and color (black or white, metal or plastic)
Station 2:
Checking height of the workpiece
Station 3:
Stamping the workpieces with correct height
Sensors and actuators of the individual stations are as follows: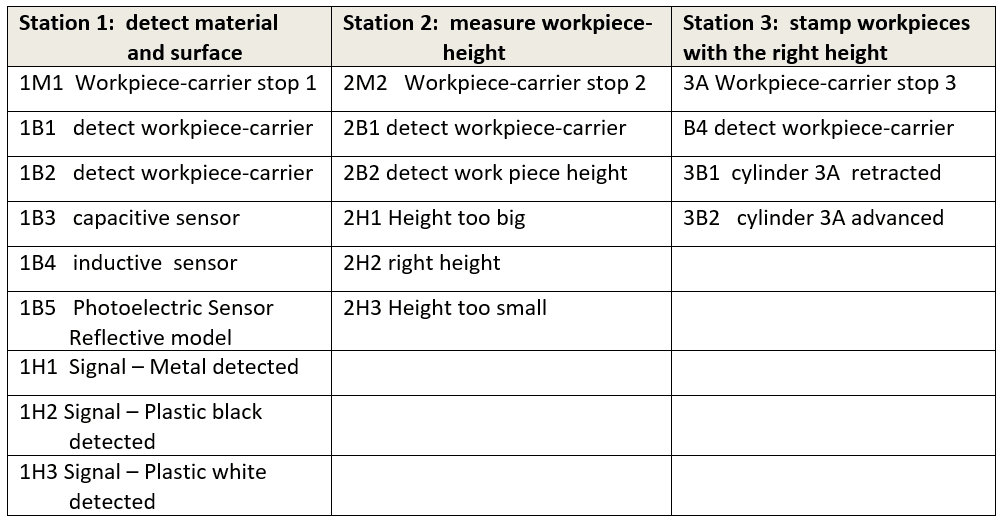 To be able to program Station 1, you should be able to answer the following questions in advance:
Which of the three sensors reacts to all materials?

Which of the three sensors reacts only to metals?

How does the photoelectric proximity switch (Photoelectric Sensor Reflective model) react to light, shiny or black, matt surfaces?
Further work steps:
Creating a truth table,

Create a logical equation for each output (here the LEDs for display),

Creating a logic diagram from the logical equations
You must be a Gold Member to see the solution. You can get this for $ 4. With this you can see all the solutions - validity: 1 year. The comment function is open so that you can also ask questions.
---